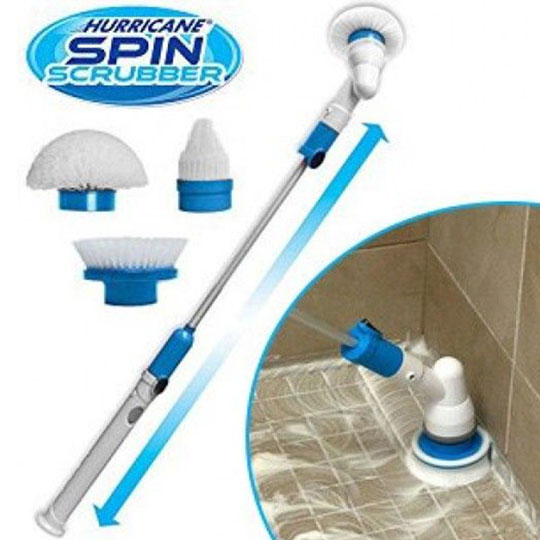 Hurricane Spin Scrubber Rechargeable Cordless Cleaning Brush
Brand: Collections|Category: Cleaning Supplies
Have questions about this product (SKU: 130524)?
+8801730-474950
Product Specification of the Hurricane Spin Scrubber Rechargeable Cordless Cleaning Brush
Product Description of the Hurricane Spin Scrubber Rechargeable Cordless Cleaning Brush
Mopping with a traditional mop is tiring enough, especially when you need to manually ring out the mop head with your hands. You can finally ditch the old mop and replace with this easy and effortless mop. Introducing the Spin Mop with 2pcs Mop Heads. With rotatable swivel mop head, no more getting your hands dirty or even straining your back. The Hurricane Spin Scrubber is tough enough for both indoor and outdoor use, Cordless, rechargeable power scrub brush makes cleaning your tub, shower, grout & fixtures faster and easier with a sparkling end-result, Hurricane Spin Scrubber, with built-in rechargeable batteries, rotates 300 times per minute; it's incredible torque scrubs away calcium, soap and hard water stains with ease, Say goodbye to harsh and abrasive cleaners; Hurricane Spin Scrubber's flexible bristles mold into cracks and crevices, corners and shower tracks for a super clean without chemicals The amazing Hurricane Spin Scrubber takes the hard work out of cleaning. Cordless and powered by a rechargeable battery, you can use the Hurricane Spin Scrubber anywhere - indoors or outside. The sturdy brushes have flexible bristles to fit into cracks and crevices while they spin at 300RPM to easily clean tubs, fixtures, tile, grout, glass, corners, floors & more! Set includes: hurricane Spin Scrubber 3 scrubbing heads, an AC adapter, an extension pole. Flexible bristles get into cracks and crevices. Cordless For indoor/outdoor use So you can effortlessly reach high places without straining. Material: Metal and plastic. Extends from 25" to 44" long.
Loading...